Our top model: guillotine with EASY-CUT, hydraulic clamp, programmable power backgauge with electronic control module and IR light beam safety curtain on the front table.
Technical Specifications
Cutting length: 720 mm
Cutting height: 80 mm
Cutting height with false clamp installed: 78 mm
Narrow cut: 20 mm
Narrow cut with false clamp installed: 90 mm
Table depth: 720 mm
Power supply (other voltages available): 400 Volt / 50 Hz / 3~
Motor performance (input capacity): 1.5 kW
Dimensions: H 1335 x W 1305 x D 1540 mm
Dimensions with side tables: H 1335 x W 2100 x D 1600 mm
Weight: 620 kg
Power 400 V / 50 Hz / 3~ (three phase)*
IR safety curtain.
The light beam safety curtain in the working area of this professional guillotine ensures the highest level of safety and cutting convenience.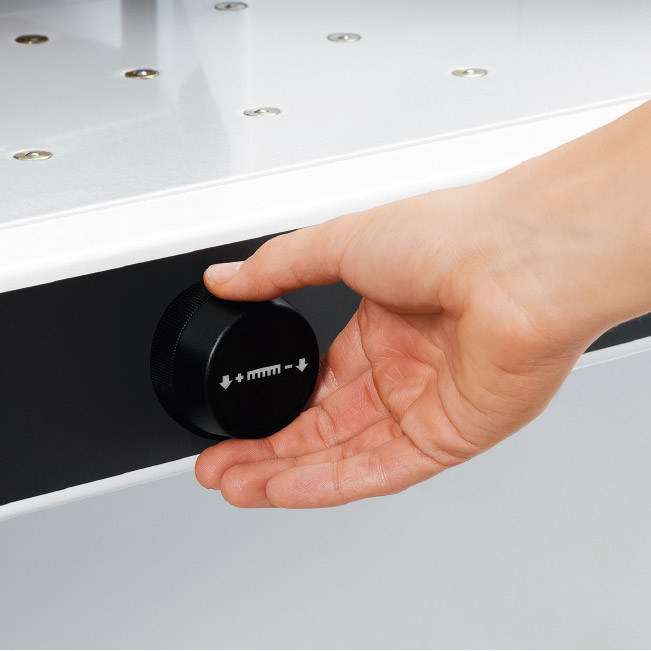 Electronic hand wheel.
Ideal for manual backgauge positioning, the electronic hand wheel has infinitely variable speed control from very slow to very fast.
Patented EASY-CUT activating bars
A cut can be executed conveniently by means
of the patented EASY-CUT blade activating
bars, which guarantee a safe two-hand
operation.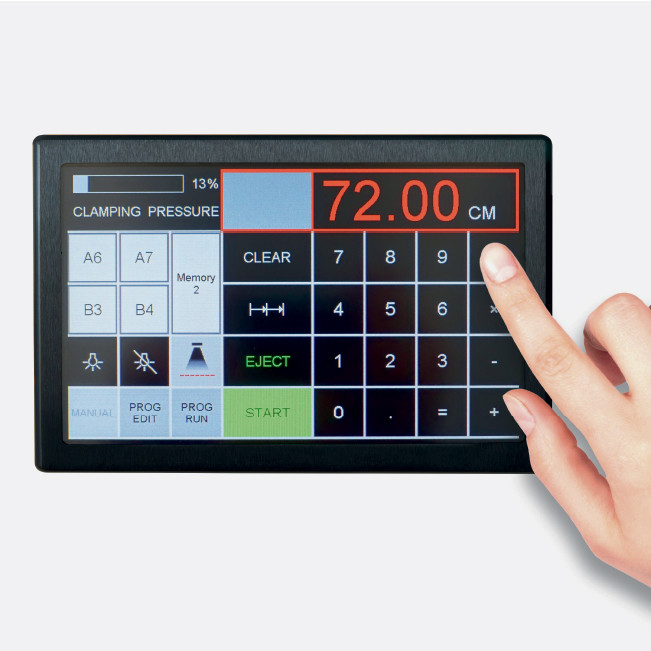 Easy-to-use large 7-inch touch pad.
Extremely convenient: Electronic, programmable control module for the power backgauge with multi-lingual touch pad. 99 programs with 99 steps in each program can be stored.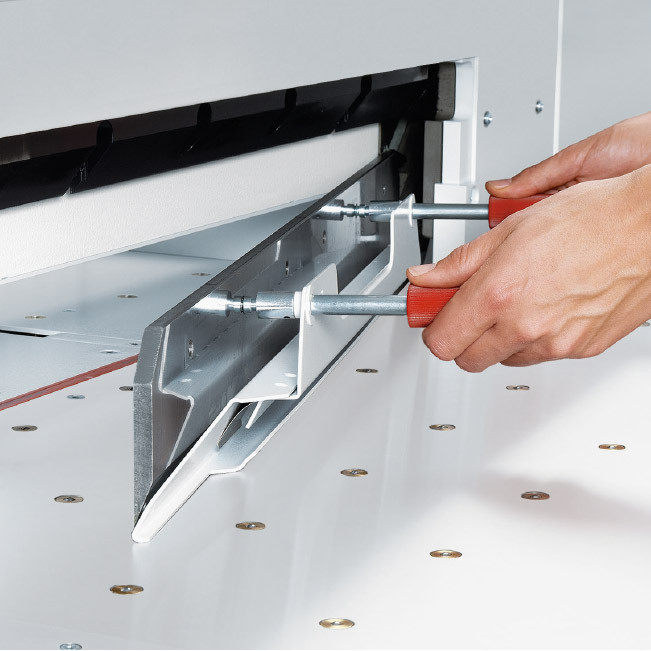 Safe blade change.
Safe and convenient blade change without removing covers. Blade changing device covers cutting edge of blade to protect the operator. 
Practical tool holder.
The practical hook-in tool holder is placed on the back table and keeps all necessary tools for blade change and service jobs within reach.