Suitable for A4 or 12? formats (smallest paper size 100 mm x 105 mm) | paper weights 60 gsm to 120 gsm | fold-out feeding table for 150 sheets of paper | fold speed 115 sheets per minute | easy setting of the fold stops on the two folding pockets (fold symbols and colour code indications) | automatic power cut-off with indication on display if top cover is opened | automatic shut off when the last sheet is folded | easy operation via start and stop push buttons | digital display with error indication | digital counter (addition/subtraction) | stream delivery paper ejection system conveyed by belts and three manually selectable ejection roller positions
Suitable for A4 or 12? formats (smallest paper size 100 mm x 105 mm) 
paper weights 60 gsm to 120 gsm 
fold-out feeding table for 150 sheets of paper 
fold speed 115 sheets per minute 
easy setting of the fold stops on the two folding pockets (fold symbols and colour code indications) 
automatic power cut-off with indication on display if top cover is opened 
automatic shut off when the last sheet is folded 
easy operation via start and stop push buttons 
digital display with error indication 
digital counter (addition/subtraction) 
stream delivery paper ejection system conveyed by belts and three manually selectable ejection roller positions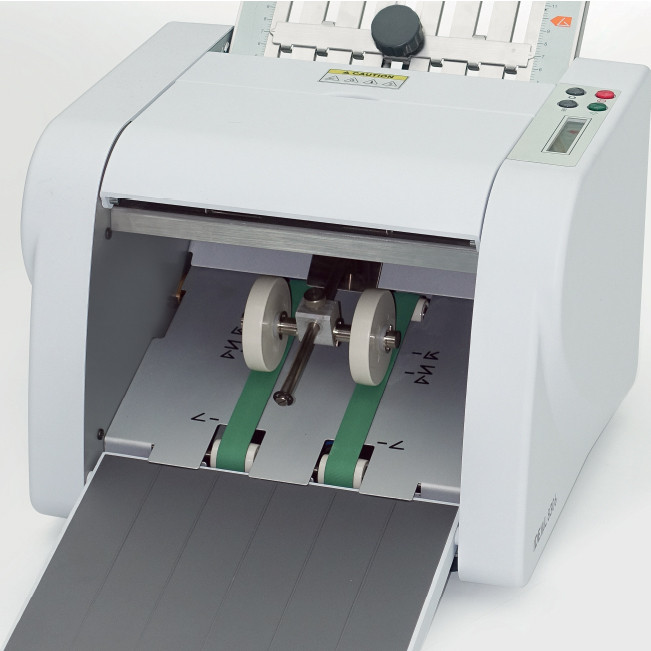 Paper ejection.
Stream delivery paper ejection system conveyed by belts and three manually selectable ejection roller positions.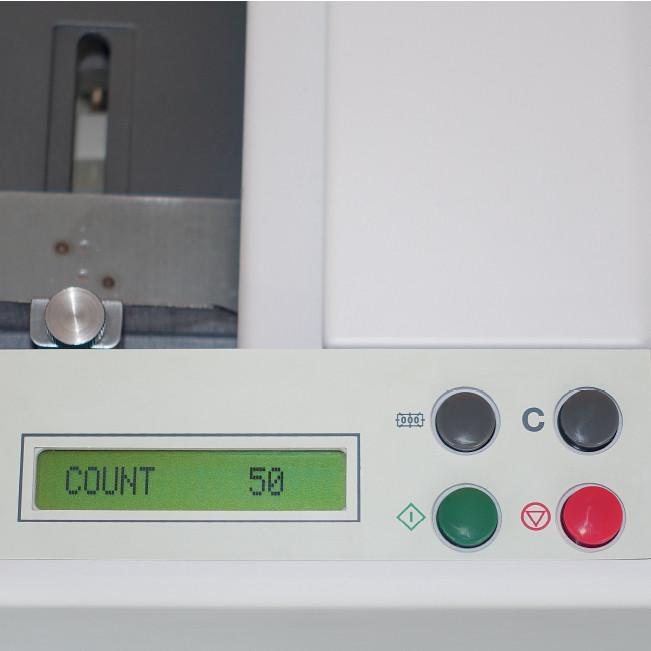 Control panel.
Four push buttons and the digital display with the ­addition/subtraction counter guarantee an easy, uncomplicated operation.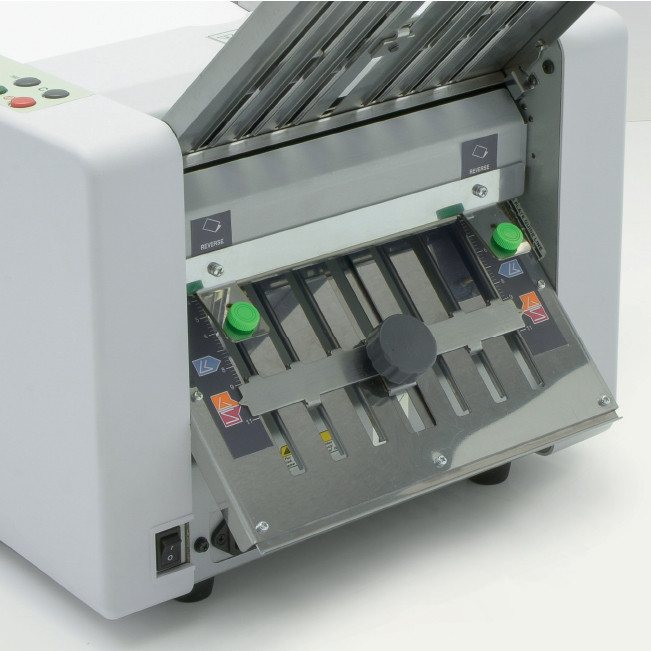 Folding Positions.
Fold symbols and colour codes indicate the positions of the fold stops on the two pockets for easy setting of the different fold types.
Stores easily.
Feeding and paper receiving trays fold away. Compact dimensions and only 15 kg make it fully portable.